As part of the Unified Community Platform project, your wiki will be migrated to the new platform in the next few weeks. Read more here.
Mobile 3D Printer
Mobile 3D Printer
Details

Type

Crafting Station

Stack

1

Weight

2

Crafting Station

3D Printer / Respawn

Crafting Ingredients



The Mobile 3D Printer is a crafting station in Memories of Mars that you start the game with. You can bring it with you in your inventory and action bar. It allows you to craft basic items (tools, weapons, ammos...).
The Mobile 3D Printer can stay 192 hour deployed on floor unused. If not used, it will disappear.

At first, you start with a free one.
If you loose it :
You can craft a new one at a 3D Printer for the cost of 4 Iron
Or you can respawn (suicide) and you will resurrect naked but with a free Mobile 3D Printer (don't forget to get your stuff back in your corpse).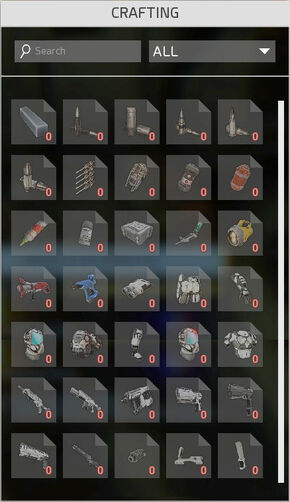 The number of resources needed may decrease with your Skilltree progression :
Item
Resources needed
METAL
Iron


3

Iron Ore



WEAPONS
PR-X Revenant




BR-9 Charger




3

Aluminium



IT-V Sting





1

Copper



SA-6 Wraith



DW-4 Fury



AC-5 Brigand



HV-8 Slayer




4

Aluminium



AMMUNITIONS
40 6.5mm Low-Grade





20 12ga Low-Grade




6

Nitrate



60 5.72mm Low-Grade




6

Nitrate



10 .416 Low-Grade





30 10.8mm Low-Grade




20 3-inch Nail



ATTACHMENTS
Reflex Sight


5

Aluminium




Extended 10.8mm Barrel




Extended 10.8mm Magazine




4

Aluminium



EXPLOSIVES
Percussion Grenade






Smoke Grenade




2

Nitrate




4

Biomass



Signal Flare




CONSUMABLES
Dry Ration




10

Biomass



MEDICS
First Aid Spray Mk.1





2

Biomass



Med Pack Mk.1





12

Biomass



Adrenaline Shot Mk.1




12

Nitrate




4

Biomass



ARMORS
Worker's Thigh Protector




3

Aluminium



Worker's Arm Protector




Worker's Head Protector



Worker's Chest Rig




6

Aluminium



Worker's Leg Protector




Worker's Headlight





Worker's Chest Protector



TOOLS
Flashlight



Pulse Excavator Mk.1



Welding Tool Mk.1



Binoculars


5

Aluminium




---