Memories of Mars Wiki
Welcome to the Memories of Mars Wiki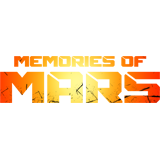 We are currently maintaining 1,309 pages (80 articles).
Please feel free to contribute by creating new articles or expanding existing ones.
Participate
Have a page you'd like to add to the Memories of Mars Wiki? Get started by giving your article a name and hitting "Create Page." Edits and improvements to existing pages are also appreciated.
Adding content

If you are unsure of what to do or how to create a page, search for a few articles on the same topic and see what they look like. You can always view the source code in a wiki and learn from what others have done.
An edit doesn't have to be massive; if you feel you don't want to create whole articles, then just fixing spelling errors and broken links is enough.
About
| | | |
| --- | --- | --- |
| " | Survive the extreme conditions on Mars. Compete or cooperate with others to gather resources, 3D print your equipment and build your base, unveil the story behind the abandoned mining operations and, ultimately, escape the Red Planet. | " |
| | ~ from the Steam store page | |
100 years in the future, something happened on Mars.
Once frequently visited, it is now abandoned with some left behind.
Memories of Mars is an open world survival game set amongst the abandoned mining operations on the red planet, as the dream of exploiting and colonizing Mars has proven impossible. You play as a recently awoken clone who learns its lifespan is limited by the lethal solar flares that hit the surface of the planet every few weeks.
Tasked with surviving the barren wastelands of Mars, players must explore the unforgiving Martian terrain and build a habitable homestead while fighting against a variety of dangers including strange enemies, harsh environmental elements and other human clone survivors.
Explore and Survive the Red Planet.
Developer:
Limbic Entertainment
Mode:
Online PvP, Online Co-op