As part of the Unified Community Platform project, your wiki will be migrated to the new platform in the next few weeks. Read more here.
Carbon Fiber
Carbon Fiber
Details

Type

Crafting Material

Stack

100

Weight

0.25 (25 /stack)
Carbon Fiber is a type of resource in Memories of Mars.

Carbon Fiber can be obtained by :
harvesting it with your Cutting Torch on pipelines almost everywhere in towns, outposts, biospheres, industrials
grabbing it on ground, tables, shelves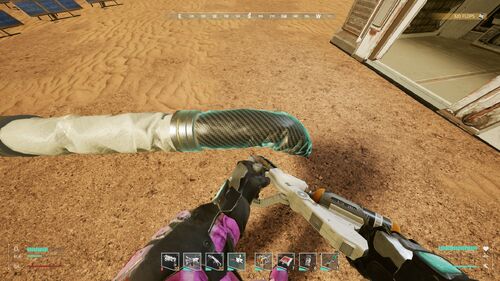 Crafting with Carbon Fiber
[
edit
|
edit source
]
Note that resource numbers can decrease with your skilltree bonuses (Crafting Cost).
Item
Resources
Crafted in
ARMORS
Enforcer's Headlight







3D Printer
Enforcer's Arm Protector






3D Printer
Enforcer's Leg Protector






3D Printer
Enforcer's Chest Rig






3D Printer
Enforcer's Thigh Protector






3D Printer
Riot Shield






3D Printer
WEAPONS
BR-81 Harbinger







3D Printer
XB-220 Crusader







3D Printer
HV-64 Eliminator







3D Printer
ATTACHMENTS
10.8mm Drum Magazine






3D Printer
Extended 10.8mm Quickdraw Magazine






3D Printer
10.8mm Suppressor






3D Printer
10.8mm Muzzle Brake






3D Printer
Super Extended 10.8mm Barrel






3D Printer
5.72mm Muzzle Brake






3D Printer
Extended 5.72mm Magazine






3D Printer
Extended 12ga Barrel






3D Printer
Extended 12ga Magazine






3D Printer
Panoramic Sight


8

Aluminium




8

Copper




6

Carbon Fiber



3D Printer
Target Designator






3D Injection Printer
2x Holo Sight






3D Injection Printer
4x Scope


12

Aluminium




16

Copper




12

Carbon Fiber



3D Printer
8x Scope






3D Injection Printer
AMMUNITIONS
10 High Explosive Bolt






Laboratory
10 HEAT Bolt






Laboratory
10 Bodkin Bolt


4

Carbon Fiber




2

Iron



3D Printer
10 Broadhead Bolt


4

Carbon Fiber




2

Iron




2

Aluminium



3D Printer
EXPLOSIVES
Concussion Grenade






Laboratory
HESH Grenade







Laboratory
Explosive Charge






Laboratory
Demolition Charge






Laboratory
Trip Mine







3D Printer
MEDICS
First Aid Spray Mk.3







Laboratory
Med Pack Mk.2






3D Printer
Med Pack Mk.3







Laboratory
TOOLS
Welding Tool Mk.2







3D Printer
Pulse Excavator Mk.2







3D Injection Printer
---