As part of the Unified Community Platform project, your wiki will be migrated to the new platform in the next few weeks. Read more here.
Algae Farm
Algae Farm
Details

Type

Refining station

Crafting Ingredients

4

Iron




6

Aluminium




8

Copper




Hit Points

1000 hp

Unlock Cost

80 FLOPs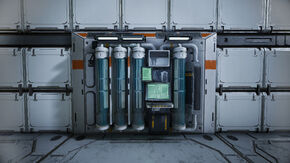 The Algae Farm is a refining station in Memories of Mars capable of transforming Nitrate into Biomass.
You can install it in your base on 1 wall.

You need to learn the Algae Farm skill in your Skilltree (Mechanical Engineering) for 80 FLOPs.
You can then install it on 1 Wall in your base.

You need to drag Nitrate in the Farm in order to start the refining.
There is 4 slots so you can refine 4 x 20 Nitrate at the same time to produce 4 x 10 Biomass.
Item
Resources
Duration
Process
10-40 Biomass

20 to

80

Nitrate



30 minutes
---